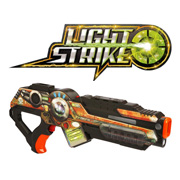 Stuck for what to get the kids for Christmas? Do you have an active bunch or usually end up with half the kids from the street in your house? WowWee may have the answer.
Light Strike is a home version of Lazer Tag, when I was about 15 Lazer Tag was massive in the UK ... indoor units were setting up assault maze style courses for people to hire out and run round for an hour shooting each other with harmless lazer guns. I know there are a few places now that still offer the chance to play 'lazer army' against your friends even now as we have one in Cannock. Great for corporate do's and team building amongst other skills.
Now though you can play the game in your own home!!
WowWee have brought out Light Strike, the kit is quite pricy but you don't have to buy all the gear to play .. you can add to your collection as the kids (and adults) get better and require more kit to make the game more interesting.
This video will explain it all better than I can, its quite a fast paced action game and that it quite hard to get across in a blog post.
Now you don't have to be able to do back flips to play. Simple skills such as being able to play hide and seek are a good start! From an educational point of view you can improve team building skills and also the exercise is good for everyone. This is the type of game that is better played outside (unless you have a massive house) and so you get some good old fresh air as well.
Light Strike is not just for boys I might add, plenty of girls like combat style games - bring the video games to life and actually join in with no worry of getting hurt. A good idea if you do have mixed teams is boys against girls or kids against adults ... who will win ???
The whole kit is quite comprehensive with different types of guns, scopes, enemy scanners, add-on bits for the guns and targets to try and hit.
Prices start at £10 for a scope, up to £40 for the guns .. there are plenty of products and prices in between to cover most price ranges.
For more information please visit:
http://www.wowwee.com/en/products/light-strike