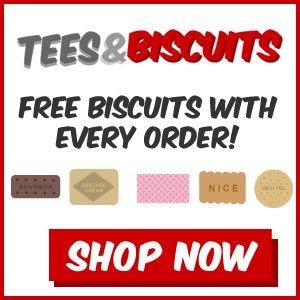 Tees & Biscuits is a UK based t-shirt website that sells funny, quirky and awesome t-shirts.
With every order they also send out a pack of biscuits. Why? Why not?
They also offer Free Delivery on all UK orders.
The prices are pretty reasonable, at present they have a small selection but they have put a lot of effort into the website so I hope they get bigger with time.

Take a look as the service is great for gifts or just to be stylish.
Click the banner picture to be taken directly to the store.